All Trade Oh La La
Called: Leah
Dob:  2006-04-18
Far: Yardican Cardiridge Eri Epeli
Mor: Yardican Us Edition
Show: 2 x CK, 1 x Res.CACIB, 2nd best female at Norweigan Winner show 2009, (18 cardigans)
Mother to our H-J-M-litters
Leah has had two litters at Kennel Cymraeg Ci in Belgium.
She is now going to stay with us here at Kennel Migeva.
And we are so thankful for having her here with us.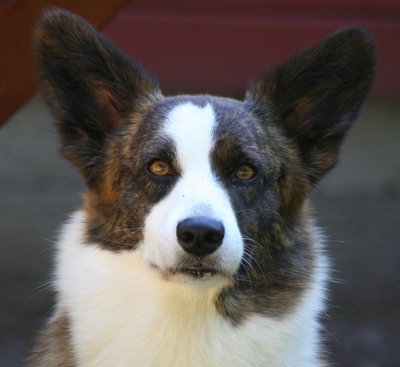 Leah is a real lady! After only a few minutes here shes was already comfortable.
And she's just running around playing with the other dogs singing Ohh Laaa Laaa!!
Just like Christine said, they call Leah "Her Highness".
Oh yes, that's NO questions about that!
Thank you Christine for giving us the confidence to have Leah here with us.
It's a pleasure to have her!